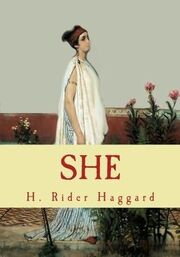 Ayesha
was an Arab woman who became the immortal goddess-queen of the African tribe of the Amahagger, after discovering and entering a flame that supplies eternal youth. Ayesha is vengeanceful, selfish, and suffers from immense hubris and jealousy that cause her sufferings - she is a villain, no doubt - yet remains a sympathetic figure.
The novel She by H. Rider Haggard reveals how she spent centuries awaiting the reincarnation of her long-lost love Kallikrates, whom she murdered when she realised he loved another, only to die on finally meeting him and defeating her innocent rival.
In the sequel, Ayesha: Return of She, it is revealed that Ayesha's spirit was re-embodied in Tibet, only for the love-triangle to arise once more and consume everybody involved. The World's Desire, a spin-off from the She novels by Haggard and Lang, reveals that the characters are constantly being reincarnated to relive the same conflict throughout history and there is nothing any of them can do about it.
Haggard's She and Allan is a prequel, in which Allan Quatermain encounters Ayesha before the events of She. Haggard's Wisdom's Daughter and Lang's "LETTER: From Herodotus of Halicarnassus to Sophocles the Athenian" (in Old Friends: Essays in Epistolary Parody) cover the events of Ayesha's early life.
In The Vengeance of She by Peter Tremayne, Ayesha's spirit attempts to hijack the body of a young woman.
Ayesha is mentioned in Tarzan Alive by Philip José Farmer, and Ludwig Horace Holly - the narrator of the first two books - is a core member of the Wold Newton Family.
External Links
Community content is available under
CC-BY-SA
unless otherwise noted.