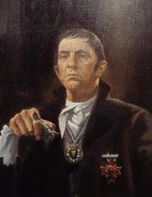 Barnabas Collins (circa 1765-????) was/is an American vampire from Collinsport, Maine, transformed in the 1790s by his wife Angelique Collins who was a witch and wished to avenge herself upon him for loving another. His father, Joshua Collins, chained Barnabas into his coffin and hid it inside a secret room within the family crypt. In 1967 he was accidentally released. He consciously loathed being undead and sought some kind of cure. His story, along with that of much of the Collins family, was chronicled in the television series Dark Shadows.
This series was brought into the Wold Newton Universe not by Philip José Farmer, but through the identification of a crossover between Dark Shadows and The Man From UNCLE, as locations and characters from Dark Shadows appear in David McDaniel's UNCLE novel The Hollow Crown Affair. Subsequently, certain Wold Newton scholars have identified matters of interest that relate to Dark Shadows.
External Links
Community content is available under
CC-BY-SA
unless otherwise noted.