Hugh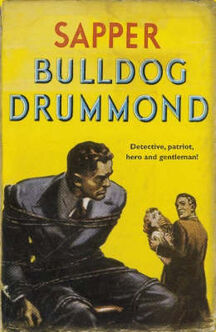 "Bulldog" Drummond
was a wealthy British Army Officer who became a private detective following the First World War. His exploits were chronicled initially by
H. C McNeil "Sapper")
. Drummond's arch-nemesis was the criminal mastermind
Carl Peterson
.
Philip José Farmer made Drummond one of the central characters of his Wold Newton Family in Tarzan Alive (his father is given as one Roger Drummond). Notably, Drummond is listed as the biological brother of Korak.
The Bulldog Drummond novels are often accused of racist content. It is interesting to note that the later novels, written by Gerard Fairlie after Sapper's death, feature a much more liberal Drummond congnisant of his earlier distasteful behaviour - Fairlie, although he himself always denied it, was the man whom Sapper stated was the 'real' Bulldog Drummond.
In Tarzan Alive, Farmer indicated that only the first of Fairlie's run of novels was acceptable as part of Sapper's original canon, although by Doc Savage: His Apocalyptic Life he appears to have relented and accepted the validity of further books in the series.
Wold Newton scholar Brad Mengel, in his article The Daring Drummonds, argues that Drummond and his wife Phyllis were likely the parents of the version of the rather different Bulldog Drummond who featured in the 1960s movies Deadlier than the Male and Some Girls Do, and of Roger Drummond whose son also features in the film series.
External Links
Community content is available under
CC-BY-SA
unless otherwise noted.