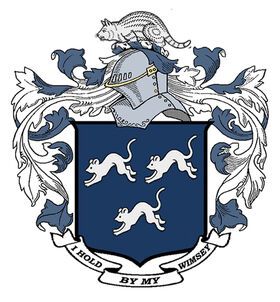 The title Duke of Denver refers to two separate peerages held by the Wimsey family for many generations.
The title of Duke of Denver (of the first creation) in the Peerage of England was bestowed upon Peter, 6th Earl of Denver, by Henry VII. The family titles fell into abeyance following the death of the childless 12th Duke early in the nineteenth century.
The titles of Duke of Denver (of the second creation) and Viscount St. George in the Peerage of the United Kingdom was bestowed by Queen Victoria, at the recommendation of the Duke of Wellington and other senior peers, upon Mr. Charles Wimsey, a very distant cousin of the 12th Duke, who had married Grace Wimsey, the daughter of the 12th Duke's heir the late Colonel George Wimsey who had been killed at the Battle of Waterloo. Duke Charles was technically the 1st Duke of the second creation but is generally referred to as the 13th Duke. The present peer, technically the 5th Duke of the second creation, is therefore referred to as the 17th Duke in The Adventure of the Peerless Peer.
Arguably, the most famous member of the family was the "gentleman detective" Lord Peter Wimsey, son of the 15th Duke.
C.W. Scott-Giles, Fitzalan Pursuivant of Arms Extraordinary, and a long-term correspondent of Dorothy L. Sayers, discusses the history of the family and titles in his pamphlet The Wimsey Family.
In Tarzan Alive, Philip José Farmer identifies the Dukes of Denver with the Dukes of Pomfret mentioned in The Lost World by Arthur Conan Doyle, and thus refers to the title as 'Duke of Pomver'.
External Links
Community content is available under
CC-BY-SA
unless otherwise noted.