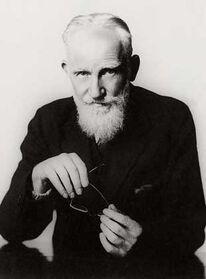 George Bernard Shaw (1856-1950) was an Irish author, mostly of plays and essays. Renowned for his wit and eccentricity, his major claim to fame in terms of the Wold Newton Universe is as chronicler of An Unsocial Socialist, concerning John Clayton, 5th Duke of Greystoke (as identified by Philip José Farmer).
External Links:
Community content is available under
CC-BY-SA
unless otherwise noted.