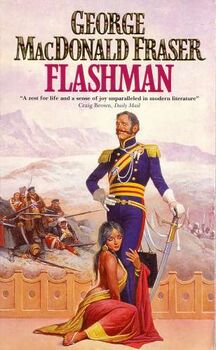 Harry Flashman
is a leading bully at Rugby School, in Thomas Hughes's novel
Tom Brown's Schooldays
, about the ethos of Ruby under Dr. Thomas Arnold.
George MacDonald Fraser has since revealed that Brigadier-General Sir Harry Paget Flashman VC KCB KCIE (1822–1915) had become a hero of the Victorian age after he was expelled, fighting in wars all round the world, recieving many honours and much wealth, and meeting most of the famous people of the time.
Flashman wrote three sets of memoirs:
Twixt Cannon and Cossack (about the Crimea War)
The deeply-scandalous, and therefore suppressed, Dawns and Depatures of a Soldier's Life (Philip José Farmer seems to have possessed at least one volume of this, as the contents are mentioned in Tarzan Alive)
The Flashman Papers, edited in several volumes by Fraser, which reveal that Flashman won all his fame and glory through cowardice and duplicity.
Fraser's novel Mr. American features Flashman as a character. Another of his novels, Black Ajax, features Flashman's father H. Buckley "Mad Buck" Flashman in one of the leading roles, and in the course of the book he makes reference to the fame won by his son.
Flashman is sometimes referred to as a member of the Wold Newton Family, which is incorrect. Tarzan Alive does discuss him, especially with reference to the second volume of the papers, Royal Flash, as does Doc Savage: His Apocalyptic Life, in connection with a scandal that drove Joshua Spade to emigrate. Dennis Power has made Flashman a member of the Star Inn Family, but his geneaology gibes with that provided in Fraser's books.
External Links
Community content is available under
CC-BY-SA
unless otherwise noted.