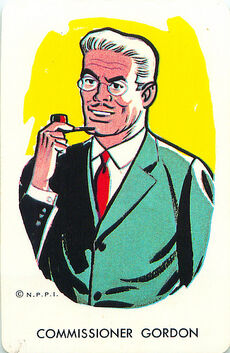 James W. "Jim" Gordon was a Gotham City police officer who rose to the rank of Police Commissioner and was an ally to the masked crime fighter known as Batman, as described in the pages of various DC Comics' publications from 1939.
Reference to comics' characters in Wold Newton circles remains controversial, although Doc Savage: His Apocalyptic Life has a problematic throwaway reference to Lois Lane, and mentions that Batman comics were a staple reading material for the young Cordwainer Bird. However, many commentators would argue that Batman, and the other figures associated with him, bear more resemblence to pulp heroes such as The Shadow, and especially to the stories of the detectve Dick Tracy, than they do to your average superheroes and supervillains. It is therefore interesting to note that a very early extension of the Wold Newton Universe to Comissoner Gordon came from a definite pulp angle.
Wold Atlas published an article by Arn McConnell, The Case of Comissioner Gordon, which argues that the Comissioner Gordon of the Batman comics is one and the same as the Comissioner James "Wildcat" Gordon who fought crime as a vigilante called "The Whisperer" in pulps of the same name between 1936 and 1940.
DC Comics's Gordon has been married twice, to Barbara Kean Gordon (divorced) and Sarah Essen Gordon (murdered). Gordon is the father, or adoptive father depending on which account you read, of Anthony Gordon, James Gordon Jr. and Barbara Gordon (variously the superheroine Batgirl and the superheroes' coordinator Oracle).
Wold Newton scholars Mark K. Brown and Dennis Power have both researched the Gordon family as a whole (Lord Byron, remember, was a member of this extended family) and identify Comissioner Gordon's paternal grandfather as Artemus Gordon.
External LinksEdit
Community content is available under
CC-BY-SA
unless otherwise noted.