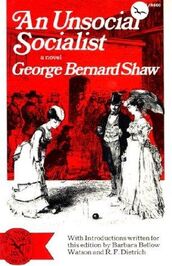 John Clayton, 5th Duke of Greystoke
is
Philip José Farmer
's name for Sidney Trefusis, a character in
George Bernard Shaw
's novel
An Unsocial Socialist
. In Shaw's book, Trefusis is the son of a Manchester bagman who built up a business empire and won himself a baronetcy, with Sidney rebelling against his father's social position by turning to socialism. In Farmer's
Tarzan Alive
, John Clayton is the son and heir of
Sir Jesse Clayton, 4th Duke of Greystoke
and his Duchess,
Arabella Howard
.
The fifth Duke was twice-married; firstly, to the ill-fated Henrietta Jansenius, daughter of Sir John Jansenius, whom he abandoned to follow his political dreams. Her death occured shortly after he left her; he subsequently married her cousin Athena Darcy ("Agatha Wylie" in Shaw's novel).
The impetus for Farmer's identification of the fifth Duke with Shaw's character was Professor H.W. Starr's article "A Case of Identity, or The Adventure of the Seven Claytons", which identified John Clayton the London cabbie from the Sherlock Holmes serial The Hound of the Baskervilles as a ducal ancestor of Tarzan. Starr proposed that it would be unlikely that a late-Victorian duke would take to driving a hansom cab for money unless he had some strong political motivation to do so.
In Tarzan Alive it is revealed that the Duke was murdered by Peter Michael Carey, a sailor who had stranded the Duke's only son John Clayton, Lord Staveley and his family in Africa (as described in Edgar Rice Burroughs's novel Tarzan of the Apes. Carey had not set out to kill the Duke, but had hoped to blackmail him, offering the location of his son, daughter-in-law and grandson in return for money. With the Staveleys thought dead, the Duke's younger brother the Marquess of Exminster succeeded to the dukedom.
Community content is available under
CC-BY-SA
unless otherwise noted.