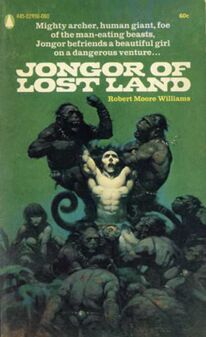 Jongor
, properly John Gordon, is the protagonist of stories comprising
Jongor of Lost Land
and sequels, originally written by Robert Moore WIlliams in the 1930s and 1940s for
Fantastic Adventures
but not collected until the 1970s.
Jongor was the son of a pilot Robert Gordon, who crashed his aeroplane in a remote part of Australia. He was accompanied by his pregnant wife, and their son John (who had difficultly pronouncing his name) grew up Tarzan-like, battling remnant dinosaurs and such threats.
Wold Newton researcher Mark K. Brown identified Jongor as a member of the Wold Newton Family in his article The Magnificent Gordons, which states that Robert Gordon was a descendent of Sir Hugh Drummond, Bt. and Georgia Dewhurst. Mr. Brown also stated that Jongor's mother was an Australian nurse named Margaret Dundee. Win Scott Eckert has noted the implication that Margaret was a relative of Mick "Crocodile" Dundee.
Unbeknownst to Mr. Brown and his colleagues, Philip José Farmer had himself intended to identify Jongor as a member of the Wold Newton Family in his book Doc Savage: His Apocalyptic Life. The passage in question ("Jongor in the Wold Newton Family") was abandoned, and not published (in Farmerphile #12, with commentary by Win Scott Eckert) until well after The Magnificent Gordons had become familiar. According to Farmer, Robert Gordon was a descendent of Fitzwilliam Darcy and Elizabeth Bennet, as well as being part of a different branch of the Gordon clan than Mr. Brown had stated. Farmer also gave Jongor's mother's name as Elizabeth Rivers, also a descendent (albeit by another of their children) of Sir Hugh and Lady Drummond.
External links
Community content is available under
CC-BY-SA
unless otherwise noted.