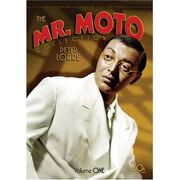 Mr. Moto
was a Japanese secret agent, created in novels by the author
John P. Marquand
.
In Doc Savage: His Apocalyptic Life, Philip José Farmer makes reference to Wolf Larsen's rape of a Japanese woman, as described by Jack London in The Sea Wolf. Farmer suggests that Mr. Moto might be the grandson of Larsen and his victim. Wold Newton scholar Dennis Power has described Moto's life in an article published in Myths for the Modern Age (ed. Win Scott Eckert), and thinks it more likely that Moto was actually their son.
External LinksEdit
Community content is available under
CC-BY-SA
unless otherwise noted.