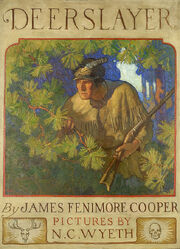 Nathaniel "Natty" Bumppo
was a man of European parentage brought up in a tribe of Mohicans. He is the central character of a series of interconnected, but not always consistent, novels by
James Fenimore Cooper
, "The Leatherstocking Tales":
The Deerslayer
Last of the Mohicans (and its direct sequel, Song of the Mohicans by Paul Block)
The Pathfinder
The Pioneers
The Prairie
Natty Bumppo is known by different names in each of the books, perhaps most famously as "Hawkeye" in Last of the Mohicans.
Members of his ancestral house in England are mentioned by Philip José Farmer in Tarzan Alive, and Natty Bumppo himself is mentioned in Doc Savage: His Apocalyptic Life as a possible ancestor of Esther Root from Ross Lockridge's novel Raintree County. Farmer, having identified the real-life locale of the events described therein as Henry County, visited and located a gravestone that he believed marked the burial place of Esther's mother, whom Lockridge does not name in the novel. The occupant of the grave was a Fern Bumppo Root, daughter of John Bumppo and Juno Cooke, and Farmer inferred that - since Esther's mother was said to have been of Indian heritage - that John was the son of Natty Bumppo.
Community content is available under
CC-BY-SA
unless otherwise noted.