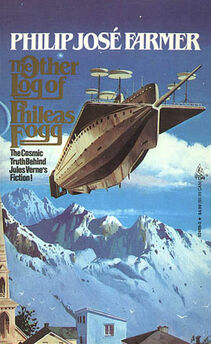 Phileas Fogg is the protagonist of Jules Verne's novel Around the World in Eighty Days. An exactingly-precise English gentleman of unknown origins, he breaks with his daily routine by accepting a wager that he can circumnavigate the Earth within eighty days, including times for connections and delays, even though to lose the wager would be to invite bankruptcy. As his departure coincides with a notorious robbery, he is also fingered for the thief. However, he ultimately succeeds, clears his name, and wins the hand of the beautiful Parsi Princess Aouda. The name "Phileas" is often amended to "Phineas" in English translations of the book.
Philip José Farmer's novel The Other Log of Phileas Fogg chronicles the secret rationale for the journey. In this book, it is revealed that Fogg is a near-immortal agent of an alien race called the Eridaneans, trapped on Earth for decades with their rivals, the Capelleans. Fogg is named as the man responsible for the sinking of the Nautilus in Verne's Twenty Thousand Leagues Under the Sea, having been aboard as a crewman.
Farmer's novel, together with information in Tarzan Alive and Doc Savage: His Apocalyptic Life, reveal that Fogg's parents were General Sir William Clayton and his then wife, Lorina Dacre. Fogg and his sister Roxana were disinherited when their parents were divorced. Instead, they were adopted by Lorina's second husband, the wealthy and eccentric inventor Sir Heraclitus Fogg, Bt., of Fogg Shaw in Derbyshire. Somehow Clayton seems to have wrangled it that Fogg would not inherit his baronetcy, and Sir Heraclitus's could not be passed down to an adopted son, but Fogg was subsequently created a baronet in his own right. Sir Phileas and Lady Fogg were the parents of Suzanne Fogg.
The Other Log of Phileas Fogg concludes with Farmer making the firm statement that the similarity of his own initials to those of the immortal Phileas Fogg is nothing but sheer coincidence. Farmer's novel The Lavalite World (1977) implies that Paul Janus Finnegan, whose initials fit Farmer's even more closely, is a descendent of Fogg, although in Doc Savage: His Apocalyptic Life (which version is believed to be the correct one) Finnegan is actually descended from Roxana Fogg. Also, Farmer's 1981 short story collection Father to the Stars bore a puff written by Phileas Fogg.
Farmerphile #15 contains: a short story by Paul Spiteri, "The Time Distorter", in which Philip José Farmer travels back in time to deputise for an injured Fogg in his journey round the world; and an article by Win Scott Eckert, "Philip José Farmer in the Wold Newton Family", that identifies Phileas Fogg as the great-great-grandfather of none other than Farmer himself.
External Links