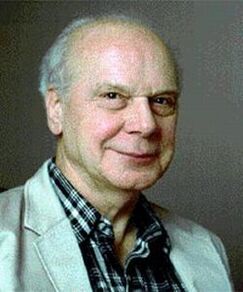 Philip José Farmer (January 26, 1918 – February 25, 2009) was an American author science-fiction author, particularly notable for use of his sexual and religious themes. Other significant strands to his writing were stories that he ghost-wrote under the names of pre-existing fictional writers, and works derived from classic pulp heroes.
In these last two respects, Farmer can be claimed as a scholarly figure in the tradition of what Sherlock Holmes fans call "The Game". Indeed, he made (i.e. created) series of ground-breaking discoveries and insight, in particular uncovering the origins of the heightened abilities of many famous literary figures, whom he found to have been members of what has been dubbed the Wold Newton Family.
Philip José Farmer and Tarzan
Edit
Although Farmer read widely, and was a fan of many completely different types of literature, undoubtedly his favourite figure in the entire of 'fiction' was Tarzan of the Apes. He wrote a number of novels, either about Tarzan himself (Tarzan: the Dark Heart of Time), thinly-disguised versions of Tarzan (The Adventure of the Peerless Peer), explicit imitations (Lord Tyger), and just plain explicit (A Feast Unknown). He also edited an anthology of accounts of feral children, Mother was a Lovely Beast.
Famously, Farmer put together Tarzan Alive, a biography of Tarzan who had been generally thought to have be a fictional character created by his chronicler Edgar Rice Burroughs. Farmer, however, believed that Tarzan was a real person, and after considerable research identified Tarzan/John Clayton's real-life identity. Farmer contacted him, and was invited to meet the man of whom he was writing, "Tarzan" having been flattered and intrigued at the American writer's interst and efforts. Farmer described their meeting in an article, "An Exclusive Interview with Lord Greystoke", and later reiterated the facts of the matter between himself and Tarzan in an interview in a French documentary. J.T. Edson later revealed, in his book Bunduki and Dawn, that Farmer also got to meet one of Tarzan's extended family, Dawn Drummond-Clayton.
External Links
Community content is available under
CC-BY-SA
unless otherwise noted.