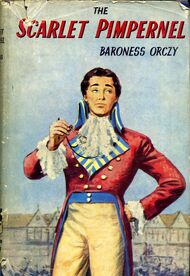 Sir Percy Blakeney was a Regency fop and baronet who during the Reign of Terror following the French Revolution, successfully operated a clandestine network smuggling those condemned to die out of France. His nom de guerre for this operation gave the title to the play that chronicles his adventures, The Scarlet Pimpernel by Baroness Orczy. Among other things he was a master of disguise, and a devoted husband to Marguerite St. Just, a Frenchwoman (although for a time they were estranged).
Philip José Farmer, in his book Tarzan Alive, identified Sir Percy as one of the witnesses of the Wold Newton Meteorite. However, he considered that all the sequels to the original novel by Baroness Orczy were fictional, and that Sir Percy was married to an actress named Alice Clarke Raffles at the time of the Wold Newton event. Evidence of Alice being the Pimpernel's wife lead Farmer to assume that Marguerite St. Just had died following the events of the first Orczy novel, but Win Scott Eckert, in his article "They Seek Him Here...": The Demmed Fine Blakeney Family Tree, argues that in fact the Pimpernel was a bigamist who had families by both women simultaneously, and that the sequel novels were therefore all genuine. Eckert's short story "Is He In Hell?" indicates that the Blakeneys' marriage was in fact an equitable ménage à trois.
There is also a biography, The Gay Adventurer (almost immediately retitled The Life and Exploits of the Scarlet Pimpernel) by John Blakeney.
The children of Sir Percy by Marguerite St. Just were twin sons Jack and George, and daughter Violet Yvonne; his children by Allice Clarke Raffles were Percy Armand Blakeney, twins Serena and Suzanne, and twins Marguerite and Mavice.
External Links