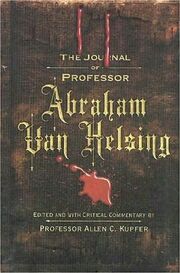 The Van Helsing Family is a group of relatives that over the course of many generations have fought against supernatural threats--most especially vampires and Dracula in particular. Their country of origin would appear to be the Netherlands.
Philip José Farmer mentioned this family in papers describing the Wold Newton Universe, but later researchers have delved further into the house. Arguably its most famous member was Professor Abraham Van Helsing.
According to the researches of Charles Loridans, Abraham Van Helsing (born 1829) married Elizabeth Rutherford (daughter of the 11th Lord Tennington) in 1847. They had two children--Lawrence (1850-1910) and Maria (born 1853) before Elizabeth was turned into a vampire by Dracula sparking a generations-long feud between the Van Helsings and the vampire lord.
Lawrence's son Leyland (born 1877) married a young Chinese martial artist named Mei Kwei in 1904. They had one son, Lorimar (born 1909), who in turn had three sons: Matthew (born 1927), Conrad (born 1930) and Kurt (born 1931).
Conrad married Ruth Parrish Krogh and had two sons, Adam (born 1952) and Robert (born 1958). Adam and Conrad encountered/worked with Vampirella.
Maria married Professor Armitage H. Porter in 1887, then their dauther Helena married Maxwell Summers. Their son James and his wife Anna were killed (evidnetly by vampires) in 1966, so their two children were raised apart by friends of the family. Their daughter Jaime Sommers (born 1949) was raised in Ouji California whereas their son Hank (born 1957) was raised in Los Angeles. He had a daughter, Buffy Summers, who was called as the Slayer.
Lorimar's son Kurt and his wife Anne Abroisius were probably killed by vampires but not before having three daughters: Rachel (born 1950), Jessica (born 1956), and Vanessa (born 1962),
External links
Community content is available under
CC-BY-SA
unless otherwise noted.